It would appear as though former treason accused Mark Benschop is on a campaign to resurrect his dwindling popularity. Of recent we have seen an intensification of his attempts to publicly prostitute himself along with Lincon Lewis and Norman Witter. An earlier attempt by Lewis failed miserably after it was felt by members of the public that the story just did not add up. Back then Lewis had claimed that his home was visited by strange men whom he later described as being members of the infamous "Phantom Squad" and alleged that they tried unsuccessfully to enter his home. However, none of Lewis' neighbours testified to ever hearing or seeing anything of the sort, not even Lewis' calls for help, neither did he telephone anyone. He instead ran to the back of the village where he boarded a minibus and subsequently made his allegations public. When questioned by the media as to his reasons for not reporting the matter to the Police, Lewis back then had stated that members of the Police Force were intricately connected to the "Phantom Squad" and as such compromised themselves.


The trio
were yesterday arrested for disorderly behaviour and resisting arrest during an illegal protest outside the office of the Commissioner of Police, Eve Leary.
Their lawyer, Khemraj Ramjattan showed up after their detention, pleaded on their behalf and said that bail was expected at 3pm yesterday.
However, up to press time, the men were still in police custody.
The three men were holding a three-man protest outside Henry Greene's office during the Police Awards ceremony.

There, one of the three men ended up in a trench and was eventually pulled out and taken away to the police station.
At Brickdam Police Station, Lewis and Benschop were overheard singing the hymn "What a friend we have in Jesus" and the "Lord is my Shepherd" while in the enquiries office.
We later learnt that the three men refused the offer of bail in the sum of $50,000 and preferred to remain in custody.
Later in the evening a few of their relatives and friends assembled outside the Brickdam Lock-ups chanting and singing rather noisily. Benschop was heard communicating with persons outside which we were told constituted an offence.
Earlier in the year Benschop had blocked traffic along the Berbice Bridge after refusing to pay the fare and was subsequently placed before the courts. Known for his often outlandish and scandalous remarks during his hosting of the "Straight-Up" TV programme on HBTV Channel 9 and also for the filming of a tape by then wanted man Andrew Douglas in which he claimed to be a Freedom Fighter, Benschop came to prominence after he incited persons during a protest outside of Office the President to storm the Presidential compound.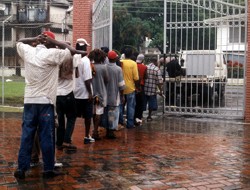 This resulted in the death of 2 persons and injury to many others including government workers and Presidential Guards stationed at O.P.