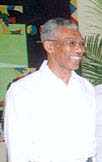 David Granger
Vijay P. Kumar:
Retired GDF Officer David Granger has no place in public life in Guyana. His culpability in the fraudulent General Elections of 1973 is beyond dispute.
Dr. Chaitram Singh was an Officer in the Guyana Defence Force in 1973. He had graduated from the United States Military Academy at West Point. He has stated in no uncertain terms, "In 1973, the chief "political" officer in the GDF was Major David Granger, an aide to Forbes Burnham."
This clearly and unequivocally places Granger at centre of the fraudulent General Elections of 1973. Granger would do himself and all Guyana a service if he quietly fades away into oblivion. There is no place for him in public life.
The PPP will win the next general elections. It has won all the free and fair elections in Guyana (1953, 1951, 1961, 1964, 1992, 1997 and 2006). Guyana needs a credible opposition party, an essential cornerstone of any vibrant democracy. With the WPA and the AFC being so weak, it is the PNC that must continue to fill that role.
Granger should not be part the PNC opposition. As Jinnah Rahman has so poignantly stated, "Granger's hands are seriously stained with the blood of these two heroic Guyanese patriots."
He was referring to 'Ballot Box Martyrs' Jagan Ramessar and Parmanand Bholanauth who were killed by GDF soldiers on the Corentyne during the General Elections in 1973. Granger's culpability is beyond dispute. It establishes he has no place in public life.