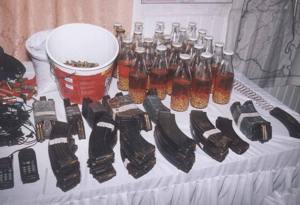 In an interview with Mark Benschop broadcast via internet radio on Demerara Waves it was posited that in his book titled "The Morning After" elder statesman and WPA Executive member, Eusi Kwayana named Benschop as a 'known mastermind' of the Buxton insurgency. Benschop responded by saying that what Kwayana actually said in his book was that himself(Benschop) and Ronald Waddell were in Buxton to offer support for what was taking place. And that they were part of the 'mastermind' but not part of the political mastermind.

Benschop also revealed that during the time of the crime spree of 2002/2003 and during the holding up of criminal elements in Buxton he had met Kwayana on numerous occasions and he (Kwayana) was very supportive of what was taking place inside the village.
In fact he went on to state that at one time Kwayana said to certain elements within the insurgency to 'keep up the struggle', in obvious reference to the continued slaying of hundreds of innocent men, women and children, the majority of whom were of Indo-Guyanese ancestry. Benschop also said that he held Kwayana personally responsible for Waddell's death after what he had written in his book.