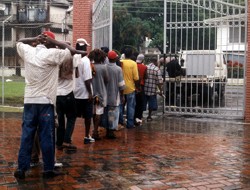 Harry Hergash:
I enjoy reading Freddie Kissoon's columns both when he is being objective and factual, and at other times, as has been happening with increasing frequency these years, when he is more subjective and misrepresents or misinterprets the facts.
In his column in the Kaieteur News of February 5, 2011 he writes "He (Harry Hergash) normally takes little punches at some of my pieces but has been stopped fast in his tracks. I doubt I will ever hear from him again". Well, I am sorry to disappoint Mr. Kissoon for he can never silence me as long as he keeps on with his duplicity. The reason I take "little punches" at some of his pieces is very simple. I believe that a columnist who is also an educator should be held to a higher standard than that of a propagandist.
Freddie, in this most recent as well as in an earlier piece, wants me to state whether I believe President Bharrat Jagdeo is autocratic. I know, from following his columns over the years, that Kissoon has been very good at theatrics. He has offered on several occasions to quit writing if certain people would take his challenge to do certain things. Now I will take a page from Freddie's playbook and make him an offer.
In his series captioned "Theorising with Freddie Kissoon" in 2003, he wrote "It is public knowledge that state security has put away Mr. Wild Man not only because of what happened outside of the presidential complex last year, but also because intelligence officials knew that he made the Andrew Douglas tape in Buxton in which Douglas appeared as a freedom fighter with machine gun in hand, promising to liberate Afro-Guyanese... Take Mr. Wild Man. He wasn't involved in the initial planning of Mashramani '02 jailbreak. But when Ocean Eleven settled down in Buxton to plan its Mansonian moonlighting (after Charles Manson, the hate-driven cultist), he was initiated into the teaching staff.... Hoyte had nothing but contempt for Mr. Wild Man because he saw him for what he was - an extremist, wild, unstable person infatuated with himself... "
In that series, Mr. Kissoon also offers this personal view "The reason why I belaboured this point about Mr. Wild Man is to drive home the danger Guyana faced when criminals with guns and empty heads and dangerously misguided activists filling those heads with everything that was historically and politically wrong, went on the rampage. Indeed, an explosion had to occur and it did in Buxton!"
Now, Mr. Kissoon, if you tell your readers who is this "Mr. Wild Man", these "dangerously misguided activists", I will reciprocate by answering if I believe President Bharat Jagdeo is autocratic.
Miasmic Note: "Mr Wild Man" is actually Kissoon's new-found partner in crime, Mark Benschop