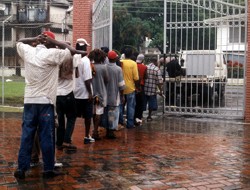 Which right-minded Georgetown resident would want as Mayor of Georgetown Mark Benschop? How much more will we allow ourselves to suffer at the hands of this murderer and racist PNC ass-wiper who is no stranger to controversy and makes no effort to hide is support for criminals?

Benschop and Waddell were the architects of the infamous Andrew Douglas 'Freedom Fighter' tape recording in which the latter threatened to wreck havoc on Indo-Guyanese citizens and later did.
Benschop was also fingered in the slaying of local actor Joel Fraser who was reportedly having a relationship with Benschop's ex-wife Maria. He later fled the country after reports of his involvement surfaced. However police investigations came to a halt after they were unable to locate Benschop's former handyman known only as 'Buck man' who it was said killed Fraser on Benschop's order. We have learnt through our sources that Benschop only returned to Guyana after he was sure that any linkages as to his involvement in the murder were taken care of. Apparently 'Buck man' has no known relatives as he was taken in as a destitute by Benschop and reportedly hails from Lethem. It is being said that 'Buck man' was killed some time after he committed the act and buried on the Soesdyke Highway.

The Georgetown City Council is already riddled with corruption and Benschop becoming Mayor will only make if worse.