-says
predominantly African- Guyanese dominated security forces would take the side of protesters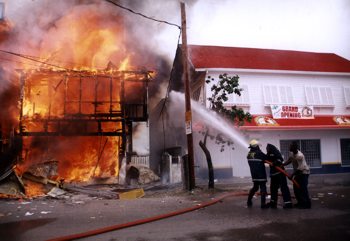 PNC and ACDA supporters burned and looted stores in the aftermath of past elections
The African Cultural and Development Association(ACDA) which consists of senior members of the WPA and is a PNCR affiliate threatened that a struggle for shared governance would be waged on the streets if the incumbent party wins again.
Addressing a public meeting at Beterverwagting (BV) village, East Coast Demerara on Saturday evening; ACDA's executive member, Tacuma Ogunseye signaled to Western nations, United Nations and the Organisation of American States (OAS) that the upcoming elections would be a "game-changer" win or lose.
"If we win, we sharing the government with them but we also have to tell them that if we lose, we are going to fight and bring Guyana to a halt until we have a national government in which the representatives of African people and the combined opposition is part of parliament; Comrades, we are announcing the riot act," he said.
Ogunseye said ACDA expects that the predominantly African- Guyanese dominated security forces would take the side of protesters to secure shared governance, national reconciliation and political compromise from the PPP.
"Once the African people rise up in their great numbers, I dare the army to take the side of the PPP and against Africans.