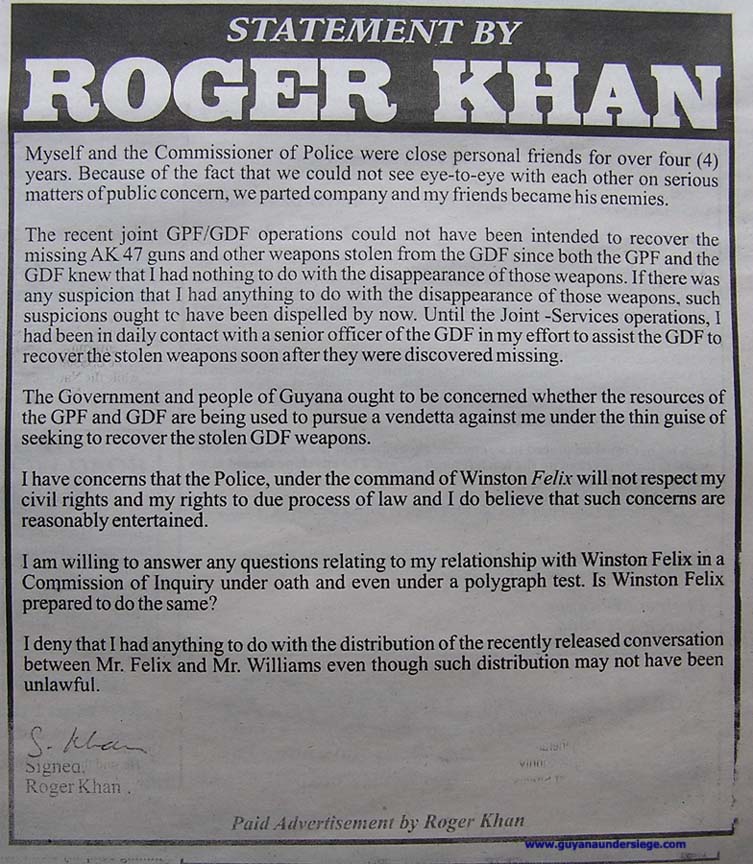 The full-page ad posted by Roger Khan in which he spoke about his 4 year
friendship with APNU member of parliament Winston Felix
David Granger would like an investigation into the 'Roger Khan era'. We're not sure whether the description is Granger's or the Stabber News' but it epitomises the perspective of a certain stratum on the unremitting violence that almost tore our country apart since 2000. To these people, the crimes only concerned now Roger Khan. Granger claims he would want the investigation to go beyond Khan. We will hold him to his word.
Because his words up to now are not reassuring: it appears that it is just to 'soft soap' the populace. Whatever might have been the offences and transgressions Khan committed during the carnage (and several of these were exposed during his trial in Brooklyn) Granger and company have been silent on the just as significant actions of other players. Take for instance, that famous full page ad that Khan took out in all the major newspapers about his relationship with the then top cop.
It is known of the army's role during the 'Roger Khan era' when a battalion were camped out in Buxton. From the Brooklyn trial's revelations, we know of several fatal breaches of SOP by some of those officers and ranks. Yet the army concentrated on Khan and others (they once found an AK47 in a fowl pen in Crabwood Creek) but could not find a single weapon from the 'Taliban' in Buxton.